The conservative co-host Alyssa Farah Griffin now formally co-hosts the ABC discussion show.
NEW Fox News articles can now be heard on audio! Alyssa Farah Griffin, who worked as the White House communications director during the Trump administration, and Ana Navarro were officially introduced as the new co-hosts of "The View" on Thursday.
Whoopi Goldberg, the co-host, stated that by including many viewpoints, they were paying homage to the show's original creator, Barbara Walters. While Navarro will still host the show occasionally, Farah Griffin will appear every day. Farah Griffin and Navarro, who are both Republicans and scathing critics of Donald Trump, were featured in an ABC montage of important appearances.
"Barbara Walters had the idea to bring together women from many various backgrounds, walks of life, and professions to discuss the difficult topics that, to be honest, our elected officials frequently aren't facing. We do this every day and are having crucial talks. I can't express how much I've learned from everyone of you, but I will say that I hope to continue learning from each of you. I know you saw it in the preview there, but the previous couple of years have been a little turbulent for me "Farah Griffin elaborated on her tenure in the Trump administration after the announcement. It will occasionally become sporty, but I adore you ladies.
It will become more than just sports, Sunny Hostin chimed in.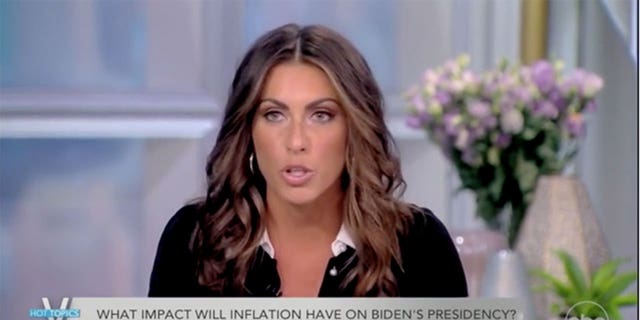 Alyssa Farah Griffin offers criticism of the Biden administration on inflation during "The View." (Screenshot/ABC/TheView)