See what people are clicking on FoxBusiness.com.
Republican state authorities are preparing strategies to penalize progressive banks that support anti-fossil fuel legislation and follow so-called environmental, social, and governance (ESG) norms.
Five significant financial organizations, including BlackRock, Goldman Sachs, and JPMorgan, will no longer be permitted to enter into banking agreements with the state treasurer's office or any other state agency, West Virginia declared last week. Each of the five firms had agreed to measures that restricted their business dealings with the fossil fuel sector, which gave West Virginia's state government a staggering $769 million in taxes.
In an interview with FOX Business, Riley Moore, the West Virginia State Treasurer, said, "We're not going to pay for our own destruction, we're not going to support it." "They have turned the same people and businesses that were the original source of our tax dollars into weapons. We are fighting back against the ESG movement for this reason."
He mentioned that U.S. Bancorp abandoned its ban on financing for fossil fuels and was consequently not included on the state's restricted list of financial institutions.
Moore's action, a pioneering response to the ESG drive by major banks, is likely to be the first of many similar ones across the country. According to a FOX Business study, over the past year, at least 15 Republican-led states that jointly oversee tens of billions of dollars in public funding have considered laws or policies that would similarly punish anti-fossil fuel banks.
Riley Moore, the Treasurer of West Virginia, talks about the state's efforts to combat banking institutions that won't support coal companies.
Derek Kreifels, the CEO of the State Financial Officers Foundation (SFOF), told FOX Business that some of the biggest banks and fund managers in the world had "truly witnessed a weaponization of capital." We have a democratic procedure that you should use to effect social change in our country, the speaker said.
According to Kreifels, the SFOF has put together a "NATO-like alliance" of state treasurers and financial officers who are dedicated to advancing free market principles. In recent months, the group and its participants have concentrated particularly on ESG concerns, taking on the federal government, banks, and Sandamp;P Global, a credit rating firm that calculates ESG rankings.
When FOX Business reached out to a dozen state financial officials, they praised West Virginia's ban on banks and said they were preparing their own response to "woke banks."
A representative for Texas Comptroller Glenn Hegar stated in an email that the agency was "continuing to work through the information we have received back from the companies we requested for more information" and "finalizing our process for choosing qualified candidates for the Texas list."
In compliance with a law the Texas legislature approved last year, Hegar is compiling a list similar to West Virginia's. Hegar asked for clarification on their rules regarding fossil fuel investments in letters he issued to 19 financial institutions in March as part of the initiative.
Outside of Douglas, Wyoming, on Way Highway 59, drilling rigs can be observed. (AP, File; Leah Millis/The Casper Star-Tribune)
State finance officials not only in Texas but also in Kentucky, Oklahoma, Florida, South Carolina, Arizona, Louisiana, Idaho, Utah, Wyoming, Arkansas, and North Dakota said they would take or contemplate taking action against banks that boycott oil businesses. Like Texas, Kentucky and Oklahoma are creating lists in accordance with recently enacted state legislation.
According to a representative for Kentucky State Treasurer Allison Ball, "These industries are economically essential to Kentucky." "They keep the lights on, fuel commutes and the supply chain, and give Kentuckians jobs. These iconic sectors deserve our help."
The representative continued, "We hope we have delivered the message that if you won't do business with Kentucky, we won't do business with you.
Before proceeding, the office of Oklahoma State Treasurer Randy McDaniel is looking into best practices from states with comparable laws, a spokesperson said. The Energy Discrimination Elimination Act, which mandates McDaniel to compile and keep up-to-date a list of financial institutions that boycott energy firms, was passed by the Oklahoma legislature but won't take effect until November.
Florida Chief Financial Officer Jimmy Patronis stated on July 27 that "the cult of ESG economic activists has been working overtime to introduce unwanted, woke ideology into the American economic system because they know their social programs wouldn't pass the smell test from voters." "It's not in the best interest of Florida businesses, retirees, or investors," the statement reads. "It's anti-American, anti-freedom, a deliberate attempt to subvert our democracy."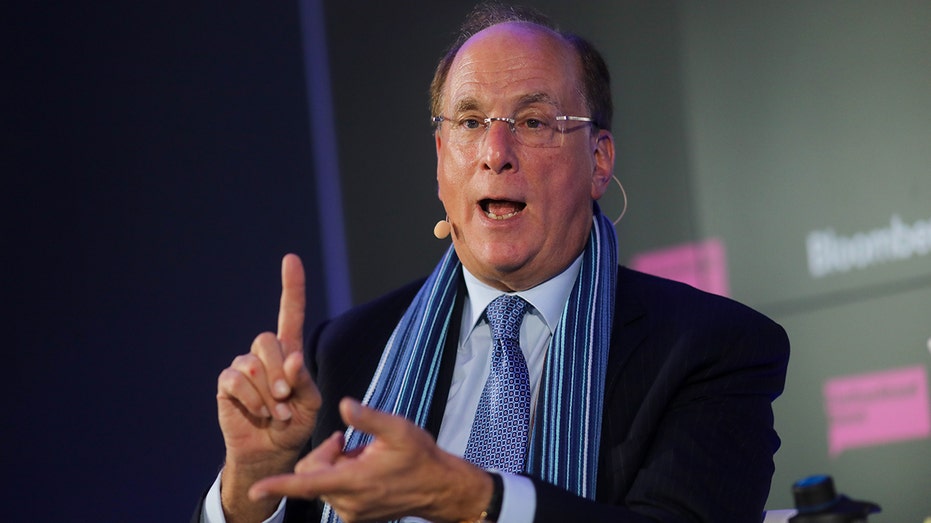 On January 21, 2020, Larry Fink, CEO of BlackRock, delivers a speech at the World Economic Forum in Davos, Switzerland. Getty Images/Simon Dawson/Bloomberg via Getty Images
Curtis Loftis, the state treasurer of South Carolina, told FOX Business that he has informed banks of his opposition to ESG rules. He said the relevant actions are being taken by his office and will be publicized "in due course."
Loftis stated, "I represent South Carolina residents, not those of out-of-state or foreign activists or institutions. "I will not permit these affluent and powerful elites to silence the opinions of our people and the judgments of their elected officials."
Arizona State Treasurer Kimberly Yee stated that rather than the ESG grading system, her office would choose future partnerships based on whether corporations "stand for American ideals." She attributed the "ESG agenda" of the Biden administration as the cause of increased gas prices and general inflation.
John Schroder, the state treasurer of Louisiana, promised to work with the legislature to guarantee that banks with unfavorable policies "are excluded from business prospects in our state."
A spokesperson for Idaho State Treasurer Julie Ellsworth told FOX Business that Ellsworth "believes that Idaho's fiduciary duty is to the shareholder and not unelected stakeholders who pressure financial institutions to reduce lending to who they deem is a disfavored company or state through use of ESG criteria."
The statement stated, "Idaho remains firm in defending all of our sectors, especially our diversified natural resource corporations.