Five people were shot dead on Thursday night in Raleigh, North Carolina, in what the governor called "the nightmare of every community." A suspected shooter has been taken into custody.
According to Mayor Mary-Anne Baldwin, one of the mortally injured victims was a police officer who was not on duty.
The name of the officer and the other four victims have not been made public.
At a news conference on Thursday night, Raleigh Police Lt. Jason Borneo announced that the suspect, who was described as a "white male adolescent," had been apprehended hours after the shooting, which had prompted cautions for locals to stay indoors.
The suspect's condition wasn't immediately known, and his identity was kept a secret. Borneo declined to give more information on the shooting, which took place in an area northeast of central Raleigh, citing an ongoing investigation.
Two other persons were hurt, one of which was a K9 officer who, according to Baldwin, only sustained non-life-threatening wounds. Borneo later claimed to have left a hospital.
He added the second victim, who was in critical condition, was still hospitalized.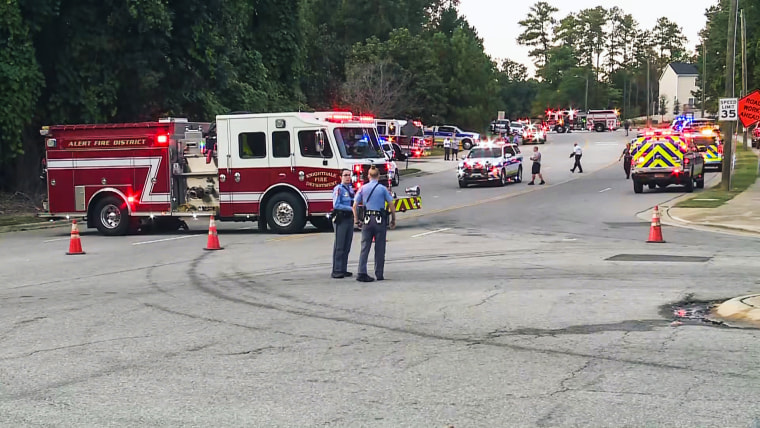 Governor Roy Cooper told reporters, "Tonight terror has come to our doorstep." "Raleigh is now experiencing what every community is experiencing. It has been perpetrated a stupid, horrifying, and infuriating act of violence."
Baldwin remarked: "This senseless gun violence that is occurring all over our nation must stop. Too many people have been hurt. We must become awake."
Raleigh police said cops were called to the scene of a "active shooting" northeast of downtown just before six o'clock.
Hedingham, a quiet suburban community, has asked the police department advised residents to stay inside. WRAL, an Aerial video from NBC affiliate, revealed a significant police presence.
A witness reported seeing a man in camouflage who appeared to be carrying a long rifle.
The witness, who only went by the name Robert, told the channel, "I saw him kind of pass by my house in the backyard." The witness claimed that after hearing gunfire, he called the police to report what he had observed.
Another witness who observed the alleged shooter reported to the station that she witnessed neighbors attempting to aid the off-duty police officer who was bleeding inside a car.
According to the witness, she observed the shooter flee the scene and vanish into a neighboring park. He appeared to be a teenager and was dressed in black boots, she said.
"She told WRAL that he "looked like a newborn" and said, "I simply don't even have the words to convey. This is not acceptable."